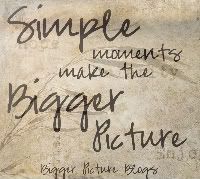 I almost didn't get the phone when it rang yesterday. It had been a long couple of days and I was tired. The husband has been out of town on business this week and so I had been going it alone on the parenting front. For whatever reason (maybe because he missed his dad) Ben had been particularly fractious the last couple of days. In fact, the day before we had had a few incidents of disobedience that I had not coped with well. The last of which being his refusal to stop playing so we could read our story and go to bed. Which resulted in me saying (almost without thinking) "If you don't get over here right now, we are not going to have a story at all" and of course, he didn't. So we didn't have a story. (yes, I know, I KNOW. I can't help it, sometimes my mouth works faster than my brain) I turned the lights off and we rocked and the whole time he was asking for his book, I was trying not to cry because I felt so horrible for disrupting his bedtime routine but knowing that I had to carry through with the consequences. When I put him in his crib and said "good night" he realized that no story was happening and he started to cry hard. Of course, I also had to go and cry (all by myself).
I missed my husband and I felt like a horrible mother. We did finally get to talk about it on the phone when he called later and he was very supportive. He said all the right things about how I wasn't a bad mom and that toddlers are tough. But he also mentioned that we might not want to disrupt his bedtime routine as a punishment (duh).
I didn't sleep well that night and so when my phone was ringing on Wednesday morning, I was sitting holding a cup of decaf in a sort of daze and had no intention of getting up. Until I saw the number was my in-laws. I felt I had to answer at that point out of obligation if nothing else. My mother-in-law and I don't have a bad relationship by any means, but we are not what I would call "close". We get along just fine but we don't seek each other out as a general rule. We end up being on different sides of the coin when it comes to a lot of issues so I think we have both come to a place of polite disagreement on many things.
In any case, she had called just to see how I was faring on my own and we were both making small talk about our weeks. I was just thinking that I had NO intention of telling her about the previous day's struggles (because I already worry that she secretly doubts my mothering skills) when I heard it just tumble out of my mouth. I told the whole story about losing my temper and taking away the bedtime story. And then I waited with a bit of anxiety to see if she would tell me I was too harsh. Too authoritarian. Too mean to the little grandson who she loves more than anything. She didn't. She told me I had done the right thing. She told me that all kids need discipline and boundaries and that they need to understand their behavior has consequences. She didn't tell me that I shouldn't disrupt his bedtime or that I need to be careful about issuing ultimatums that were hard to back up. She sympathized with how hard it was to discipline a toddler. I felt a big "woosh" of relief come over me. I suddenly felt a 1,000 times better. Sometimes all it takes is another mom who "gets it" and still tells you that you are doing a good job. I was so glad I answered the phone.
Please join Hyacynth at Undercover Mother and share your own Bigger Picture Moment!